Are you detail-oriented and enjoy math and spreadsheets? Then, becoming a virtual bookkeeper might be your career calling. Here is how you can work from home as a bookkeeper!
Working as a virtual bookkeeper is an excellent way to make good money and gain the flexibility and freedom you crave. Plus, getting started is easy. There's not a lot of set-up or equipment required, aside from a computer, an internet connection, and bookkeeping software. While learning the ropes of bookkeeping can take some time, almost anyone with a head for numbers and a propensity for data entry can learn this skill with practice.
If you want to work from home as a bookkeeper — here's what you need to know.
The Difference Between Bookkeepers and Accountants
When you hear the term bookkeeping, you may wonder what responsibilities and experience are required. Unlike an accountant or CPA (certified public accountant), which requires a bachelor's degree and license, bookkeepers fall under the umbrella of finance accounting.
However, bookkeepers are more focused on the day-to-day operations of tracking income and expenses and balancing the books. While experience is beneficial to working as a bookkeeper, you don't need a college degree or CPA license. Therefore, while the bookkeeping role requires close attention to detail and a high level of accuracy, there's less responsibility than an accountant's role.
On the other hand, accountants are typically in charge of setting up the overall budget and financial direction for a business; they oversee tax information and set up the chart of accounts according to standard accounting practices. Accountants analyze and audit financial information, produce reports, and make strategic recommendations based on data and tax laws.
What Types of Work Do Bookkeepers Do?
Bookkeeping is a back-office position required in almost every industry, so there's the built-in advantage of being able to work in any field. Once you're trained in bookkeeping, you can work within many different industries and find work that interests you; whether working with small business owners, bloggers, or even non-profits, every industry needs bookkeepers.
Common bookkeeping tasks often include:
Managing financial transactions
Entering income and expenses
Provide monthly reconciliations, financial statements, and financial records
Managing inventory counts
Financial reporting
Managing invoices and paying vendors
Processing payroll
Monitoring petty cash
What Qualifications Do You Need?
If you have a formal education in business, accounting, or mathematics or previous experience balancing the books for a family business or shop — you probably have a good foundation to work from home as a bookkeeper.
However, if you don't have bookkeeping experience, there are ways to get up to speed. For instance, try this FREE online bookkeeping training from Ben Robinson of Bookkeepers.
Most online bookkeeping training courses take approximately three to six months to complete, including the one I recommend, the Bookkeepers. However, because Bookkeepers is self-paced, you can complete it on your own schedule; in fact, many students complete the course and land their first client within their first three months.
Callie Sitek (owner of TheSmartKeep.com) took the Bookkeepers course and has had massive success as a remote bookkeeper!
If you're new to the field, taking a training course like the Bookkeepers can help you learn the ropes, including the popular bookkeeping software QuickBooks.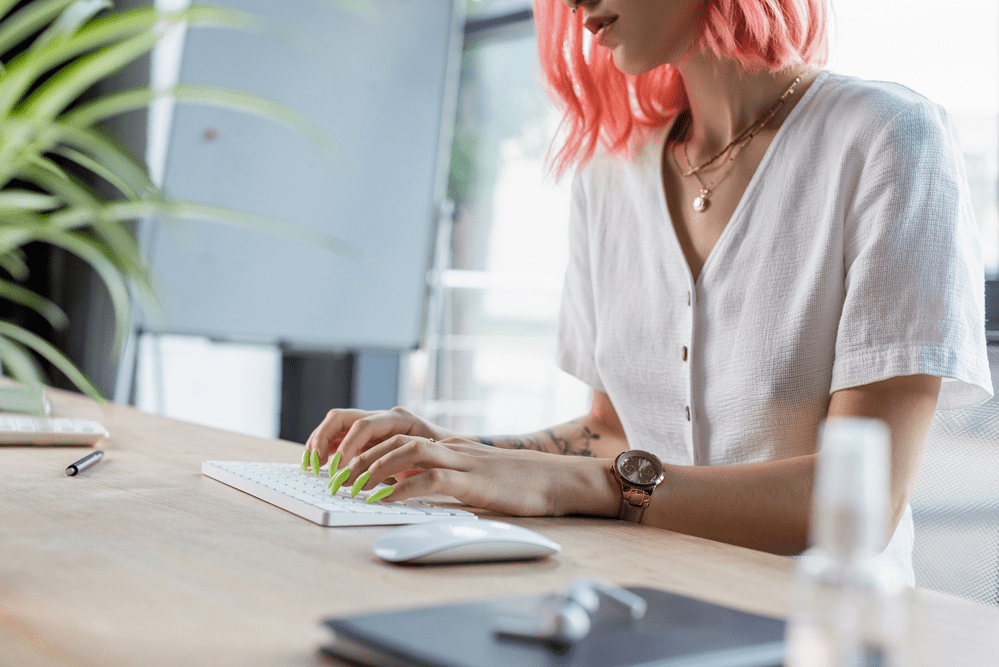 How Much Do Bookkeepers Make?
According to the Bureau of Labor Statistics, hourly rates for bookkeepers and auditing clerks is $21.90 per hour. However, more experienced bookkeepers and those who run their own businesses can earn much more, anywhere from $30-$60 per hour.
Working for a company, a bookkeeper's salary typically runs between $45,560 for full-time positions. Of course, the advantage is that you don't have to worry about the steadiness of the hours, and you may even receive benefits. But working for a company might mean you have to work a set schedule with lower pay.
Where Can You Find Virtual Bookkeeping Jobs?
If you want to work from home as a bookkeeper, you have a few options. If you have the experience, it might be worth it to reach out to your contacts from your previous job to see if they or any of their clients are looking for someone to help with their books. You can also check local listings for bookkeeping services, many of which are looking for remote bookkeepers on a consulting basis.
Remote Bookkeeping Jobs:
Some of these companies hire bookkeepers as W2 employees, while others hire as independent contractors or freelancers. If you're working as the latter, you'll be responsible for paying quarterly self-employment taxes and tracking your own income and expenses, so you'll want to fully understand your status before accepting a position. Here is some information on how to handle your finances as an independent contractor.
Freelance Marketplaces, Remote Job Boards, and Staffing Agencies:
One of my favorite places to find online bookkeeping jobs is staffing agencies. The great thing about searching for remote jobs on a staffing agency site is you can easily find those one-off job listings that companies have that are difficult to find on the huge job board sites. If you're interested in finding freelance clients, freelance marketplaces are an excellent way to build your business.
Want to Start Your Own Virtual Bookkeeping Business?
If you've decided running a bookkeeping business is the right path for you, the first thing you'll need to do is write a business plan. Having a business plan will help guide you as you set up the various aspects of your business.
Don't worry; business plans don't have to be complicated; in fact, I have a free business plan template right here.
To start, you'll need a laptop with an internet connection. You'll also need to use some accounting software to manage your client's finances. The most popular options include Excel, Bill.com, Xero, QuickBooks, or Sage. Intuit QuickBooks tends to be the industry standard. You'll also need a way to accept payments from home clients; PayPal and Stripe are popular options.
2. Build a Website
To advertise your bookkeeping business and spread the word to your clients, you'll need to create a website, particularly if you plan to work with several clients on a consulting basis. On your site, be sure to include your experience, list your services and areas of expertise, and client testimonials. Not sure how to set up a website? Check out this post for an easy and inexpensive solution.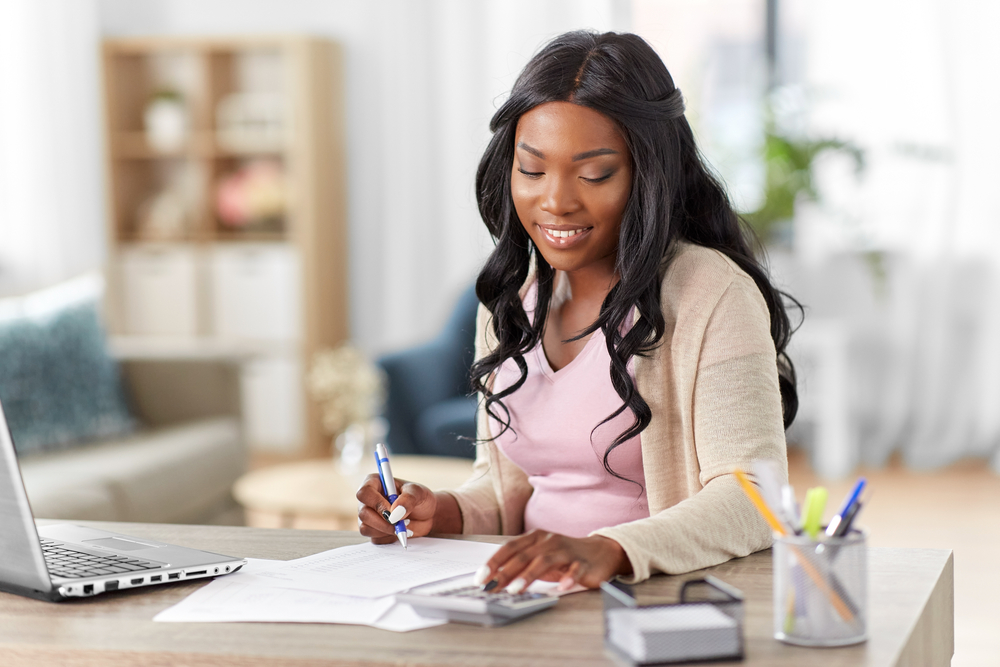 3. Market Your Business
If you're not sure how to market your business, there are plenty of ways to get the word out. Make up a few business cards to get started and reach out to your contacts on LinkedIn and Facebook.
Other ways to market your business:
Advertising
Cold calling or email prospecting
Networking
Blogging
PR opportunities
Public speaking
Guest blogging
Forum or group participation
Social media
Once you've got your website up and running, you should set a goal to reach out to a certain number of prospective clients each day. The general rule of thumb is five to ten, but set your own pace as you build up your client base.
4. Stay Up On Training and Trends
If you want to work from home as a bookkeeper, you'll need to invest in your professional development. The good news is it's widely available! Not only do conferences, events, and professional groups enable you to meet other people in your industry, they can help you connect with clients, stay on top of changes you need to know about, and keep yourself competitive. Watch for webinars, online courses, books, and training sessions relevant to the bookkeeping, finance, business, and accounting industries.
Do You Want to Work From Home as a Bookkeeper?
Whether you want to work full- or part-time hours, bookkeeping is a flexible work from home job with a lot of opportunities. Bookkeepers are needed in virtually every industry and company, and it's something you can do from home without a large investment on the front end. When you work from home as a bookkeeper, you get to choose your own path, whether it's W2 employment, freelancing, or being your own own boss!
If you think you want to work from home as a bookkeeper, sign up for this free bookkeeping course to test the waters.
Do you work from home as a bookkeeper? Drop us a note; we'd love to hear about your experience!
Originally published March 1, 2017. Content updated August 2023.